Story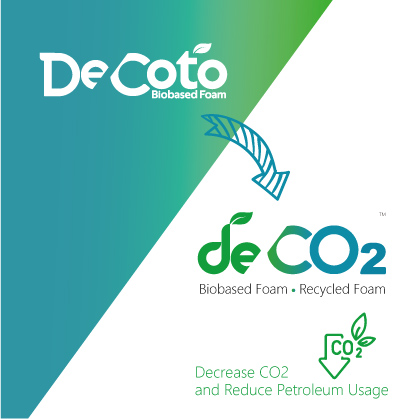 We are introducing the new eco-friendly foam brand, DeCO2, to represent the original brand, DeCoTo. At first, DeCoTo had been used to represent biobased foam which has the unique potential of reducing greenhouse gas emissions or even be carbon neutral. Now this term has evolved to DeCO2 to include environmental friendly foams that we produce. The existence of DeCo2 is aimed at reducing CO2 emissions while simultaneously strengthening the integrity of our product line. DeCO2 is divided into two series, including biobased foam and recycled foam, both of which contribute to the reduction of CO2 emissions and petroleum usage.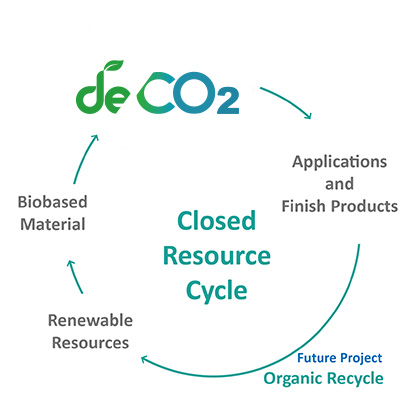 DeCO2 is an eco-friendly biobased foam in which fossil EVA is replaced with biobased carbon. DeCO2 is made from a wide range of renewable biobased feedstock including bamboo, rice husks, wood, agricultural waste, and recycled PE resins made of recycled waste plastic. Biobased materials have the unique potential to reduce greenhouse gas emissions or even be carbon neutral. Plants absorb atmospheric carbon dioxide as they grow and constitute a temporary removal of greenhouse gases (CO2) from the atmosphere. DeCO2 biobased foam can also help to reduce the dependency on limited fossil resources, which are expected to become significantly more expensive in the coming decades.
DeCO2 is tested by Beta Analytic, Inc. for its biobased carbon content (ASTM D6866) which contains up to 90%*. It conforms with the USDA BioPreferred® Program and is certified under the program's "Intermediates – foams / plastic resins categories (biobased carbon content 22%). DeCO2 also meets OK biobased 1-Star certification (biobased carbon content between 20% and 40%)
* The proportion of biobased carbon depends on product requirements or the amount of renewable biobased raw materials.
About EVAGLORY
EVA GLORY is a company specializing in the manufacturing of foam products and providing innovative ODM / OEM services for custom development of foam products. Our excellent R&D team focuses on material development, product design support, prototyping and testing; our team takes innovative concepts and transform them into practical solutions for full-scale production. Moreover, we ensure all new products and materials are extensively tested, evaluated, and optimized at each stage during the development process ahead of client trials and mass production. EVA GLORY has 50 years of production experience of varied foam material and product, including extreme sports protections, industrial applications, medical care, fitness and leisure industries, also shoe-making businesses. We work in close partnership with foam fabricators to provide an extensive fabricating services: CNC routing/milling, Laser cutting, Thermo-molding, Thermoforming, Fabricating, Hotwire cutting, Lamination, and Custom Retail Packaging, and more.
VISION and GOAL
EVA GLORY is devoted to developing eco-friendly materials and creating long-term sustainable practices that respect the environment, and to enhance the well-being of employees and the prospects of future generations.